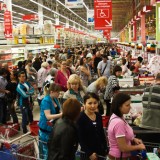 Wearable payment technology in the form of gloves is being trialled by Barclaycard this Christmas at some of the UK's 300,000 contactless locations.
Following a survey of 2,000 respondents, in which Barclaycard asked British shoppers – which wearable payment item would you like to see created? Gloves came out on top.
Barclaycard is now using the glove to tackle consumers' top Christmas shopping pet hate of long queues when paying for shopping at the till.
The 'tap and pay' gloves aim