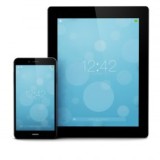 What's the difference between an MPOS tablet or smart phone?
Mobile point-of-sale (MPOS) devices are having a significant impact on the electronic payment industry as they answer the need for more flexible transactions and come with impressive features. Today, permanent and pop-up stores, door-to-door sales and trades people, and even street vendors can easily accept payments via mobile devices.
The advantages make MPOS an easy transition for merchants:
Lower total cost of ownership. MPOS devices are cheaper to purchase than PCs and are often offered for free as part of a package deal. In addition many people already own a mobile device which they can use for MPOS.
Greater freedom through portability. The merchant is no longer tied down to a limited number of fixed till points to perform transactions and other sales queries.
Multi-functional. MPOS devices can easily integrate with existing sales environments to perform many sales and inventory procedures. (Although they can't necessarily do them all at the same time.) Peripherals like scanners, printers and magnetic card readers can all be added in a mobile or fixed kind.
More customer-centric shopping experience. Retailers can deliver a highly flexible checkout option that is more personalised, carried out on the spot and quicker, with far less queues or abandonment too.
But, should you choose a tablet or a smart