Barclaycard fights queues with contactless glove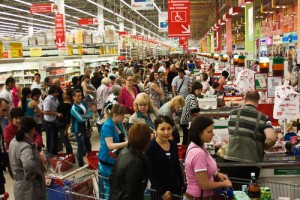 Wearable payment technology in the form of gloves is being trialled by Barclaycard this Christmas at some of the UK's 300,000 contactless locations.
Following a survey of 2,000 respondents, in which Barclaycard asked British shoppers – which wearable payment item would you like to see created? Gloves came out on top.
Barclaycard is now using the glove to tackle consumers' top Christmas shopping pet hate of long queues when paying for shopping at the till.
The 'tap and pay' gloves aim to make the whole payment process easier and faster to manage, by removing the need to rummage around for your wallet.  "Shoppers can simply touch their glove onto the card machine to pay", says Barclaycard. "The cosy woollen gloves, which are also touchscreen-enabled so shoppers can use their mobile phones while on the move, act like your credit or debit card and can be used to make quick and easy contactless payments".
The Barclaycard gloves work much like the usual contactless card; they are embedded with a bPay contactless chip that can be linked to a credit or debit card and used to pay for transactions of up to £20.  Mike Saunders, Managing Director of Digital Consumer Payments at Barclaycard says: "The 'pay gloves' we're trialling are designed to let shoppers 'tap, pay and go' even when their hands are full of shopping. If the prototype is popular, these handy winter warmers could be bringing some festive cheer to bag-laden shoppers by Christmas 2015!"
The other top wearable payment items British shoppers would like to see created are a:
2.  Ring
3.  Bracelet
4.  Handbag / Hat
5.  Scarf