Smarter delivery of products to customers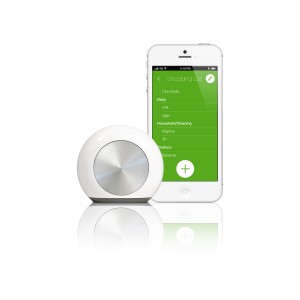 Shopping is set to move a futuristic-step further soon with the idea of spending via your home devices fast becoming a reality.
Thanks to the arrival of the internet-of-things, which is considered a natural evolution of the multi-channel marketplace, the technology that can enable your favourite TV cooking show to talk to your fridge that will then talk to your local supermarket, is ready for action. In fact a global report by Capgemini reveals that in terms of future innovation, shoppers agree that the Internet of Things eg intelligently connecting devices such as 'smart' fridges will grow in importance in the shopping journey.
Testing the water, supermarket Waitrose is trialling a scanning device for the home that can be used to build online shopping lists. The smart device – Hiku, allows Waitrose' customers to re-order previously bought Waitrose products from the comfort of their home simply by scanning the barcodes of the said items. The convenience factor lies in the fact that the customer needn't log onto their online shopping account to build their next shopping list, as the scanning tool will automatically add the scanned items to the online list. What's more the scanner has voice recognition technology that allows the customer to tell the device what they want if they are unable to scan an exact product.
Waitrose explains: "Hiku is an innovative home scanning solution that will enable Waitrose customers to populate their electronic Waitrose.com shopping basket, by either scanning a product barcode or speaking a product name into the Hiku device, which has a voice to text recognition capability. Hiku gives customers a simple way of compiling or adding to their Waitrose.com list and is the first shopping solution in the UK that combines helpful technology in the kitchen with the convenience of online shopping.
Hiku is a small, palm sized device that can be conveniently attached to a fridge or kept in and around the home for all the family to use. Items can be added as they are taken out of the fridge, or customers can speak ingredients from recipes as you plan your dinner. If customers prefer to add items on the go when out of the home, an app on their phone also allows them to update their order".
5 ways to utilise the internet of things in retail
Cisco believes that the internet of things, or the internet of everything as it puts it, will help retailers to deliver relevant information and offers to customers at just the right time and place. It suggests five routes to improving both customer experience and profitability through this technology.
Maximising the value of retail space – Small items that are fast selling or perhaps seasonal are being presented to customers via vending machines. In addition to making the quick and convenient sale the machines are providing the merchant with consumer browsing and sales habits.
Attracting customers – Retailers are provided with an extra opportunity to capture their customer's time by texting their smart phones as they pass by the store. Whereas a customer might have planned to walk past the store, they are now enticed in through a direct and unique promotional offer.
Understanding product demand – Through technology like RFID tags or location aware sensors the retailer is able to track consumer' buying trends and anticipate necessary product stock levels. By having the products in stock the retailer can raise the chance of a consumer purchase.
Assisting customers – Smart mirrors are now appearing in store changing rooms and enabling customers to interact with the store. An active smart mirror can detect RFID tags that are placed on clothing and go on to recommend additional items that are frequently paired with the item being tried on. A customer can then request the additional items to be brought to them in the changing room by pressing a customer service button on the mirror.
Connecting customers – Working together smart phone apps and product tags that can be scanned can help to secure a sale. For example, should a customer need an item in a certain size they can scan its tag and check availability in that size. If it's in store they can put in a request for a sales assistant to source it, or if it's available but not in store they can request for it to be delivered to them at home.
Using a number of these interactive elements is luxury fashion brand Rebecca Minkoff, which aims to combine the best of the online shopping world with the physical. In the store shoppers use a 'connected glass' shopping wall, which is a large mirrored interactive display, to browse products and request a fitting room. A text message will be sent to the user's phone when the room is ready in which they will find the requested clothes plus recommendations from a store stylist. Different sizes, cuts or colours can then be requested by touching the dressing room mirror, which can also be used to control ambient lighting options. Items can then be saved in a personal portfolio, and also sent to the check out for purchase, activating a digital receipt. "Every woman hates walking out of a dressing room half-naked in search of a sales associate for another size or style, which is why I'm so excited about the magic mirrors in our dressing rooms," Minkoff said in a statement. "My customers will be able to virtually connect with their stylist through the mirror's touchscreen technology for anything they need … whether it's another size or a glass of champagne."
What's tipped for retail?
Whether retailers and consumers are ready for a fully interactive, digital shopping experience remains to be seen. Forrester Research analyst Adam Silverman in a 2014 report titled The Emerging Technologies of the Digital Store believes that: "While these digital enhancements hold the promise of meaningful improvement in customer experience, operations, and revenue growth, retailers are still looking for iron-clad success stories, backed by clear evidence of uplifts in incremental revenue."'
According to Forrester analysts, Silverman is said to be backing: RFID chips, video conferencing to connect customers in-store with remote product experts, facial scanning technology to enable a personalised service, smart countertops that provide extra information on products and wearables in sales, service and back office divisions – as some of the technologies that will be in stores over the next few years. While iBeacon and augmented reality (AR) are things that retailers should be looking at now, and ones to watch are 3D printing of 'on-demand' goods and personalised products, and interactive robots that do mundane tasks to free up sales assistants.