Memory mirrors are trending in fashion stores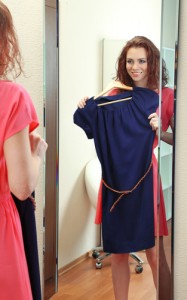 US fashion retailer, Neiman Marcus, is using a digital mirror to give shoppers the ultimate fitting room experience at its store in Walnut Creek, California.
The MemoryMirror from MemoMi, is actually a 70" digital screen with recording capability. It records the customer as they try on each outfit and plays back the footage to allow them to compare in real time.
The innovative digital mirror is self operated by the customer who uses an iPad as a controller to record as many outfits as they wish, which are presented back as side-by-side and 360-degree view points. The mirror can then also share images with the shopper's friends via email and social media, as well as being able to interact with the sales associate who can also send recommendations back to the screen.
The MemoryMirror was designed and developed by MemoMi using research done on user behaviour to create the best overall shopping experience.
Wanda Gierhart, chief marketing officer, Neiman Marcus Group, said: "Superior customer service starts with a great overall experience. The MemoryMirror allows our customers to capture a variety of still and video images that can be shared with friends and allow the customer to see how an outfit looks front and back and while moving. The initial introduction resulted in an immediate and positive reaction, and we're looking forward to delivering this unique experience to more customers as we roll it out into additional stores."
Salvador Nissi Vilcovsky, founder and CEO of MemoMi, added: "The future of fashion retail lies in the fusion of the in-store and online shopping." MemoMi is looking to add additional features for the mirror including visualising customers' outfits in different colours or patterns.
The MemoryMirror will be appearing in other Neiman Marcus stores including San Francisco and Dallas.
Neiman Marcus, the retail group is also installing touchscreen tables that let shoppers browse its in-store and online inventory in its Austin, Chicago, and Topanga branches. Using the tables, customers can create a My Favourites wish list and email it to themselves or a friend, while store associates can use it to show customers the very latest products as well as what is coming soon, for the store and beyond. "Whether it's a product in another store location or from our online inventory, our goal is to provide customers with omni-channel access to the best merchandise in the world," said Neiman Marcus group chief marketing officer Wanda Gierhart. "With our touch tables, we deliver another layer of exceptional customer service."