Revamp your space with a digital 'feature' wall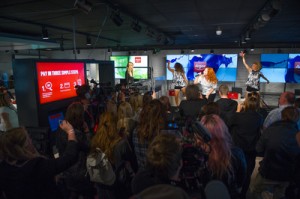 Digital walls are being recognised as an effective way to provide an enhanced shopping experience. Be they interactive, informative or just great to look at, these innovative walls are appearing and attracting much attention in the likes of stores, restaurants and hotels.
On an interactive note, Microsoft Stores in the US, have given shoppers a happy retail experience by recently starring them in the  'largest photo booth in the world'. In this case highlighting the great combination of digital technology and personalisation in store. The video wall gave customers the chance to experience both the Microsoft store and its technology in one personal experience. Shoppers could post their own happy faces on the stores' 150-foot video walls from a custom photo booth station in store.
Microsoft Retail Stores Senior Art Director Peter Ruthenberg said: "Microsoft Stores and Synect collaborated to create a truly magical experience. The campaign for the Microsoft Store during the holiday season was called 'Give Happy' — and Photo Booth kept the video walls full of happy families and smiling faces all through the season." "The best part about it is that it looks really simple, even though the complexity behind the scenes is huge," Synect Director of IT Assaf Margalit added. "We're using a lot of innovation — from Microsoft, Synect and our partners — to reimagine digital experience inside the store."
"We are really excited about the Photo Booth Experience," said Kelly Soligon, senior director of marketing for Microsoft Retail Stores, in the announcement. "We've been wanting to put interactivity into the video wall for a long time, and this is a great chance for our customers to experience our store, experience our technology and see themselves up on the video wall."
Meanwhile some are using digital signage to create a wow factor. For example, a high-end Miami-area hotel has installed the world's tallest Planar® Mosaic™ Architectural Video Wall as part of its grand opening giving it a landmark status.
The four-story wall made from twenty 55" displays, by Planar Systems and BrightSign, LLC®., creates a stunning visual impact for guests as they arrive in reception and can also be seen from the street. "With a high-profile installation like this, it's important that the deployment be artistically breathtaking with perfect synchronization and 24/7 reliability – that's why we chose BrightSign and Planar," said Cesar Cifuentes, founder and president of CMA. "The beautiful Planar Mosaic displays work seamlessly with BrightSign's players to create a finished product that perfectly complements the look of the hotel."
"Our vision for architectural video walls is well demonstrated in this impressive hospitality installation," said Jennifer Davis, vice president of marketing at Planar Systems. "By consulting with the client in the first stages of the design process, CMA's installation has become a focal point visible from the street, and is destined to be an iconic, instantly-recognizable fixture in the model Miami architectural landscape."