Retail in 2015 will be mobile, omni-channel & connected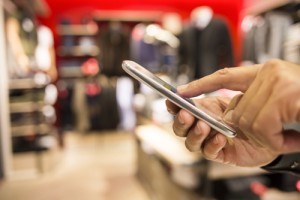 Retailers following the trends of the industry and any yet to get on the technology band wagon should take note that – mobile is here to stay and connected devices are on the up, if the latest report from leading retailer John Lewis is anything to go by.
The rise of the mobile as a shopping method is reported to be John Lewis' most significant event this year with omni-channel shopping, mobile EPoS and connected devices close by. It also confirms that the store remains as important as ever and is a key part of the digital influence upon shopping.
Retail 2014
In its John Lewis Retail Report 2014 – How we shop, live and look, the retailer says that on average 50% of its web traffic now comes from mobile devices (smart phones and tablets) with conversion rates also continuing to rise. The John Lewis shopping app has been tipped as the reason for such success with customers that use the app shopping more regularly. Mobile is also of use in store as an electronic-point-of-sale (EPoS) device. John Lewis Partners completed 10,000 transactions for customers over the past year using tablet EPoS devices which provided queue-busting benefits as well as handy on the spot product availability and information.
Following mobile, is convenient multi-channel shopping. "The ability to mix and match purchase channels and delivery options, is now the norm as it offers more convenience for customers. Shoppers want to collect orders in a way which fits seamlessly into their everyday lives," says the retailer. As a result John Lewis is seeing its customers on omni-channel shopping journeys: 12% of customers research in a shop and buy online when buying items like sofa beds. 23% research online and buy in a shop for things like cameras. 14% research online and buy online when purchasing a quick fashion fix such as a new shirt or a pair of shoes online. While half of customers still research in a shop and buy in a shop particularly when they know exactly what they want like face cream. In fact the percentage of sales carried out in shops accounts for around 70 per cent of all transactions.
Managing Director, John Lewis Andy Street commented: "Browsing and shopping on the go is now the norm. This was the first year when more traffic came to our website from mobile than desktop. To match our customers' changing shopping needs, we have expanded and enhanced our delivery options. The launch of Collect+ this year, and our forthcoming 'Click & Commute' shop in St Pancras, are both examples of how we are becoming ever more flexible and convenient". John Lewis also sees its York department store as a good example of the evolution of the shop and its omni-channel offering. Its 'See, Click, Wear' initiative features an iPad bar, allowing people to browse the full assortment of The Fashion Edit and order pieces for next day delivery if an item is not on the shop floor.
Retail 2015
Going forward the retailer predicts that virtual reality will collide with the physical shop. Following its virtual reality technology 'Magic Mirror' which allowed customers to see 3D images of themselves wearing outfits seen from all sides, it is launching Oculus Rift in 2015. With a view to exploring the virtual shopping experience John Lewis suggested that "one day customers might be able to see our furniture range in a virtual version of their living room to help them select a new sofa".
Technology and customer relationships are also working hand-in-hand. John Lewis loyalty scheme is offering enhanced services through the customer's smartphone based on their precise location. The retailer is looking at the idea that a mobile device could automatically "trigger a customer's Click & Collect order to be picked as they enter the shop to speed up the collection or help customers to navigate their way around one of our shops based on their online wish list".
Moving into the home John Lewis is seeing an increase in activity surrounding connected smart devices and wearable technology as well as increased interest in practical, portable, yet still powerful convertible tablets. With this type of technology becoming increasingly popular in the home retailers can surely expect to see demand for such technology in the industry as well. Watch this space for connected clothing that aids customers while shopping and EPoS that is both static and mobile for flexible service.