The marketing power behind digital receipts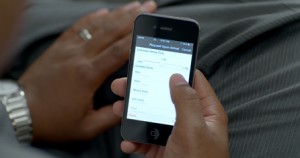 Until recently digital receipts have been tied with online purchases for obvious practicalities, but now they are popping up across numerous retail and hospitality outlets.
The thinking behind these e-receipts is three fold: 1 – They are an eco-friendly option. 2 – They are convenient to the tech savvy customer who doesn't want to carry lots of paper in their wallet and can benefit from a digital record of the transaction. 2 – They are even more convenient to the business owner who can not only use them to save on printer hardware and space  (particularly at events or pop-up stores), but they can also use them as an opportunity to interact with the customer further and therefore extend the relationship. The latter is especially relevant to stores, restaurant, hotels and the like for an Experian Marketing Services' study reports that e-receipts have higher open rates and revenue per email than bulk promotional mailings (33.7% vs 16.2% and $0.13 vs $0.09, respectively) making them a very strong marketing tool indeed.
What is a digital receipt?

A basic e-receipt is simply a digital version of a paper receipt that is usually given at the point of sale and includes: the brand name, store details, bar code, purchase details and relevant policies.
E-receipts however can also be enhanced, by providing up-sell and cross-sell opportunities such as: top navigation bars, website and shop online links, coloured layouts and promotional images, as well as links to related brands and social media. This is where things get interesting, because in fact enhanced e-receipts generate 600% more clicks and 125% more transactions compared to simple e-receipts, reasoning behind the extra interest is suggested to stem from the fact the customer has agreed to receiving the e-receipt.  Experian Marketing Services' study also points that when designing e-receipts it is imperative to follow the current spam regulations in place for transactional emails.
Who's using digital receipts?
US department store, Macy's drove the adoption of digital receipts, which are available in all Macy's stores nationwide, earlier this year. Gap, Urban Outfitters and Marriott hotels are also on board, while Tesco's has been pondering the service for a couple of years now.
Most recently digital retailer Argos has opted to offer its customers eReceipts across its 750 UK and Ireland stores, following a trial earlier this year. Customers can now choose the convenient paperless method of having a digital record of their purchase, the eReceipt, which is emailed to their inbox. The initiative also gives Argos a route to follow up on the sale by keeping in touch with the consumer through relevant marketing promotions.  Stephen Vowles, Argos marketing director, said: "We are very excited about this initiative, especially as trials have been well received by colleagues and customers alike. Customers love it because they feel reassured that they have a record of purchases without cluttering up their wallets, and colleagues appreciate the benefits which enable them to provide an even more convenient service to customers." eReceipts, a leading digital receipts solution, CEO Andrew Carroll, said: "Our ability to integrate the eReceipts software with all 750 Argos stores shows how retailers, no matter how large or small, and regardless of their existing POS environment, can utilise digital receipts to understand and engage with customers with minimal effort and complexity."
This year also saw retailer Wal-Mart opt for digital receipts with eReceipts as a means to also collect data consumer purchase data and improve its personalised marketing offers. Wal-Mart sends its electronic receipts by text to the customer's smart phone and follows through with additional tailored marketing content.  The mobile number is captured at the point of sale by asking the shopper to type their number into the debit card reader, the number is then linked to any existing customer accounts for promotional marketing to take place. Gibu Thomas, Wal-Mart's senior vice president of mobile and digital media explained: "Wal-Mart will mine the data to provide new services for shoppers. For example, it could analyse the items a Wal-Mart shopper buys each week and provide her with a shopping list of items she may want on her next trip to a Wal-Mart store. Or, if a consumer regularly buys cereal, Wal-Mart can send her a coupon for her favourite brand".
GNC, nutritional supplement retailer, chose to streamline its receipt process and add another touchpoint to the transaction. The solution sends digital receipts via validated e-mail to shoppers. David R. Sims, Vice President CRM, GNC said: "We know that customers often feel pressured to give an e-mail at the point of sale and might give a secondary address that they use for marketing messages, but the digital receipt likely warrants their good address. As long as we remain relevant we can maintain a presence in that environment. As we continually innovate and add new products to categories or create better formulas for existing ones, we want to tell that story to our customers. Rather than blasting the message out to half of the database, we can use the digital receipt as a vehicle to communicate that to those that just purchased a product in that product family".
The Association for Retail Technology Standards (ARTS) and IXRetail has also just launched the IXRetail digital receipt XML schema. The digital receipt is an electronic purchase verification that can be issued by retailers, financial institutions or any other industry that provides consumers proof of purchase. They report that: "The availability of this electronic verification standard is a major step for traditional retailers toward doing business online in an efficient, cost-effective manner…Digital receipts provide benefits to all parties in a sales transaction. They provide retailers a new method of communicating with customers for marketing and targeted promotions, help reduce third party credit charge backs and fraudulent returns, and enable proximity payments through cellular phones and hand held personal digital assistants (PDAs). Customers who use digital receipts have a more efficient method for storing and retrieving receipts for future returns and warrantee processing, updating personal finance and small business accounting systems, and for using a cellular phone and PDAs to make proximity payments. In addition, the digital receipt provides manufacturers and third parties with a standard method to obtain sales information for making production and promotion cycle adjustments, streamlining warrantee and rebate claim processing, and assists in the efficient resolution of credit card purchase disputes between retailers and banks".
Richard Mader of the Association for Retail Technology Standards, predicts in five years, up to 60% of retailers will go paperless.