Top payment technologies for your Christmas list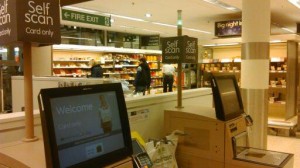 Fast, convenient and almost effortless ways to pay are topping the list for best payment technologies this year.
The ones to watch as listed in an Innovation Review by Retail Week are those that put the customer in control like self service kiosks and mobile payments. These solutions show that it's not necessarily a case of creating a brand new innovative technology, but more about bringing further innovation the technologies that already exist and are in use today.
Slimline, card only checkouts
To ease the strain on traditional as well as self service checkouts in store, retailers can now opt for slimline card only solutions. Not only do these checkouts keep staff free by providing a self service option, more of them can also be fitted into a store's dedicated payment area.
Anita Balchandani, OC & C Strategy Consultants, talks of Tesco's slimline check-outs and their relevance to convenience stores and the digital world: "Credit is due to Tesco for recognising how simple changes to existing technology can further enhance the overall shopping experience. Slimline units occupy half as much space as standard self-service checkouts, thereby enabling Tesco to serve twice as many customers in any given space. This is highly relevant to inner-city express stores…and…indicates a further push towards the adoption of digital payments."
One tap mobile payment apps
The best of the apps right now is the pre-load payment app that requires just a single tap on arrival in store to make a payment. This app has convenience written all over it for both the customer and store, reducing queues and making the making the transaction process entirely contactless.
Dave Sheppard, Experian Footfall, speaks of an example app by Harris & Hoole that works with mobile phones to aid consumer experience while providing data to the business owner: "We feel more comfortable sharing mobile profile information with those we trust – without realising that it unlocks the insights into why we use that retailer…Mobile-driven, CRM-laden loyalty through pre-paid accounts for trusted traders will become a huge and easy-to-enable growth area, with benefits to both the consumers and retailers".
Contactless ID mobile payment
The latest and coolest way to pay is to literally use your mobile phone, much like you would your contactless card. Note – You need a smart phone that has both a built in near-field communication chip and fingerprint technology. Customers simply touch their phone to the usual contactless payment receiver while holding their finger on the phone's ID button and the payment is complete.
Matthew Tod, PWC consultants, explains how he sees this type of payment method, as featured by Apple Pay, reducing what he calls transaction friction caused by the number of cards, voucher and cash a consumer carries with them: "It will slowly drive the amalgamation of payments, loyalty cards, coupons and companion apps onto mobile devices, and this has the potential to change the industry".