Self-checkouts linked to thefts in store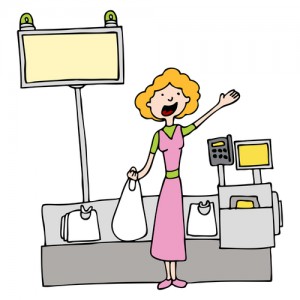 While the introduction of self service technology has given retailers freedom to focus their staffs' attention elsewhere and save money, it is also now linked to theft.
The presence of the electronic-point-of-sale (EPoS) checkout itself isn't encouraging theft, so much as frustration by shoppers who struggle to process their shopping through them, a survey by VoucherCodesPro.co.uk reports.
More than £1.6 billion worth of items are stolen from supermarkets every year, equaling an average of £15 worth each of goods every month. Fruit and vegetables being the most likely items to be taken followed by bakery goods, confectionery and toiletries.
The top five reasons people gave for stealing items from self-service checkouts were:
1. Gave up trying to scan something that wouldn't register – 57 per cent
2. Less likely to get caught – 51 per cent
3. The machine is easy to fool – 47 per cent
4. Didn't have enough money – 32 per cent
5. At the time I didn't realise it hadn't scanned – six per cent
Crispian Strachan, former chief constable of Northumbria Police and tutor at Cambridge University's Institute of Criminology, said: "The method of observation at a self-service till may be more of a temptation than being watched by someone. "
In support of supermarkets, he added that they doing a good job of preventing thefts through CCTV, weighted bagging areas and attendants at self-service tills, but that there is only so much stores can do without over investing in the issue.
The survey by VoucherCodesPro.co.uk asked 2,634 people aged 18 and over about their shopping habits and use of self service checkouts.
George Charles, spokesperson for VoucherCodesPro.co.uk said: "I'm sure most of those who now admit to stealing via self-service checkouts didn't initially set out to do so – they may have forgotten to scan something and quickly realised how easy it could be to take items without scanning them."
Mr Charles advised that: "Supermarkets need to increase the number of staff who monitor the self-scan checkouts, even though the point of these checkouts is to reduce the need for staff, as well as increase their security measures to ensure this comes to an end.
http://www.telegraph.co.uk