The biggest and next retail technologies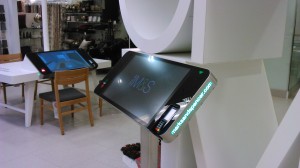 RFID, 3D and omni-channel – the three technology key words that were on retail minds after the National Retail Federation Big Show, that took place in New York just recently.
RFID tags in products are being used behind the scenes to track stock and improve inventory accuracy by both Macy's the US department store and Lululemon the sportswear brand. The tool is helping the retailers to ensure that all products are sold and upping sales figures as a result. Meanwhile elsewhere the technology is also being used front of house by footwear specialist Uggs as a means of boosting in-store experience. RFID enabled mats are able to rely additional product information to customers when a product is placed upon them.
3D technology is helping Tesco's F&F clothing line to improve its design methods by way of 3D virtual prototyping, which helps clothes to fit better.  Product returns are now going down. Tesco is also due to test image recognition technology that will check if a shelf is stacked correctly and take the pressure off of staff that would usually have to check manually. Now they can just take a picture and await feedback.
Omni-channel is seeing growth in two particular directions – integrated shopping scenarios like click and collect, and the use of digital experiences in store.
In addition five other stand out technology innovations were also noted at the show:
The Cicret Bracelet – wearable technology that when developed should take the place of a smart phone by projecting a virtual, touch screen onto the user's wrist.

Samsung Gear – a virtual reality headset that will bring the high street stores to you, in the home, work place or while on the move.

3D printed headphones – an example of personalised products, in this case a set of headphones that fit the wearer's ears.

The HAPIfork – a Bluetooth fork that tracks that speed at which the user eats their food, encouraging slower eating habits, which are better for you.

Smart toothbrush – a clever toothbrush that works with an app to time how long a user brushes their teeth and any hot spots they might of missed.
Going forward technology will continue to influence members of the retail industry as they strive to provide the most innovative and seamless shopping experiences. In the area we can expect to see the following five technology trends according to Google's country sales director, Peter Fitzgerald:
Seamless touchpoints – the ability for consumers to move seamlessly from device to device while shopping.

Borderless retail – the UK shopping industry can expect to see international players moving in to capture a share of a 2.5 billion online audience.

Delivery – getting a shopper's purchases to them just got serious. Retailers will be upping their game to get a 360-degree, 24/7 view of their products in order to offer key delivery services like click and collect and lockers.

Personalisation – the exchange of personal data for custom information is high priority for retailers, with an aim to benefit both themselves and the consumer.
The store revolution – digital technology is in its element as stores transform into experience centres and product show houses, where it can be used on all levels from browsing to payment.
Source: Retail Week