Camden Market starts technology investment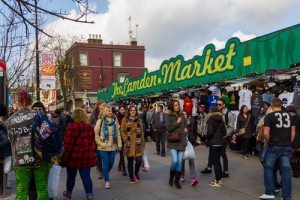 Camden Market in London, is starting the first phase of a technology investment that could see retailers in the market grow their business. Wifi and data collection are the first areas of focus.
Visitors to the market will now have access to free wifi while they browse, which in return delivers real-time location data on users to CamdenMarket.com – the company that supports retailers in the area.
Businesses will then have access to the real-time movements and location of users, as well as any additional information shared by the shoppers such as gender. The idea is that the retailers will be able to learn more about the shopping destination and its visitors, and potentially use the data to form improved promotional and customer experience activity. The data will also be able to highlight footfall throughout the market and show which areas are potentially more valuable.
Jac Timms, IT director at CamdenMarket.com, said by using the technology, the organisation has been able to find out how many people come out of Camden Town tube station and head to the market. "So what we realise is a lot of people come to Camden but don't know the Stables Market is up here," he said. "What we want to do is drive them up further along the high street so they discover it."
"Now, more than ever, businesses and cities are realising the benefits that Wi-Fi location analytics delivers. It's no longer good enough to have wireless connectivity – understanding consumer behaviour is what matters," added Sarah Eccleston, director of enterprise networks for the UK and Ireland at Cisco who is working with CamdenMarket.com on the project.
Source: Computer Weekly