Smart Phone or MPOS tablet for your EPoS System?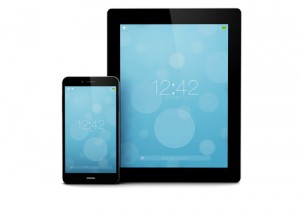 What's the difference between an MPOS tablet or smart phone?
Mobile point-of-sale (MPOS) devices are having a significant impact on the electronic payment industry as they answer the need for more flexible transactions and come with impressive features. Today, permanent and pop-up stores, door-to-door sales and trades people, and even street vendors can easily accept payments via mobile devices.
The advantages make MPOS an easy transition for merchants:
Lower total cost of ownership. MPOS devices are cheaper to purchase than PCs and are often offered for free as part of a package deal. In addition many people already own a mobile device which they can use for MPOS.
Greater freedom through portability. The merchant is no longer tied down to a limited number of fixed till points to perform transactions and other sales queries.
Multi-functional. MPOS devices can easily integrate with existing sales environments to perform many sales and inventory procedures. (Although they can't necessarily do them all at the same time.) Peripherals like scanners, printers and magnetic card readers can all be added in a mobile or fixed kind.
More customer-centric shopping experience. Retailers can deliver a highly flexible checkout option that is more personalised, carried out on the spot and quicker, with far less queues or abandonment too.
But, should you choose a tablet or a smart phone?
Naturally there are advantages and disadvantages to both devices that need to be considered before purchasing an MPOS device:
Tablet:
Pros
It's a two-in-one device that can be stationed in a dock as a fixed till point or it can be used by floor staff in a more mobile nature.
It has a good size screen that usually measures between 7 – 10.5 inches so it can also be used for sales, showing product information to the customer, and for back office management.
Cons
It's slightly awkward and heavy to carry around with you all day.
It isn't designed to make phone calls, so if you need this option you'll have to use a wired headset and internet service.
Most tablets only have Wi-Fi connectivity which means you can't manage data. Or you have to pay more to get both Wi-Fi and 3G connectivity.
Smart phone:
Pros
It's portable, slim and light-weight design makes it fully mobile and easy to carry.
It takes up less space in-store as you only require a sleek docking station.
It's very good for communication as it comes with Wi-Fi and 3G connectivity so they are fully active and able to connect to the internet and call, send SMS, as well as, send and download data.
Cons
It has a small screen size which limits is functionality to the point that it's really only good for making calls, simple sales and basic inventory.
Depending on the type of merchant you are the pros and cons of a tablet or smart phone MPOS device will differ in their purchasing influence. Ultimately you need to ask yourself the following questions: How do I sell my product? What do I need to use the device for?  How do I want to interact with customers? Factor these into your search and you'll find it a lot easier to make the right decision.